Unlock Your Digital Marketing Potential with Insider Expertise and Proven Strategies
From SEO to PPC, Social Media to Email Marketing, Learn what it takes to Drive Digital Marketing Success.
Brand positioning & messaging
Tools & insider techniques
Growth without budget stress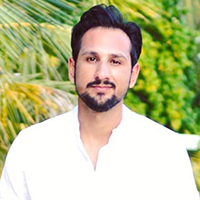 My story so far..
I launched my career as a copywriter back in 2009, but my passion for digital marketing led me to explore various fields, including SEO, paid advertising, content marketing and eventually, I now specialize in providing comprehensive digital marketing consultation full-time.
My expertise and drive to help businesses succeed continue to drive my success to this very day, and I don't see it fading anytime soon.
Today, I am an award-winning certified digital marketing professional with more than a decade of experience managing digital marketing strategy and tactical execution for various brands.
What I do to help
Even though I cater to a wide array of services but I generally boil all of my services down into one of these three main categories.
I help you develop a winning strategy that maximizes your effectiveness while minimizing the time & money required to achieve your goals.

I have helped businesses reach from 0 - 30,000 organic visitors in just 3 months using advanced SEO & content marketing strategies. How? All you have to do is 'ask'.
Simply stated, I get results. I manage $100k+ monthly advertising budgets. Have built extensive automations, and turned dead sites into cash cows.
Farhan is knowledgeable, fast and reliable. You can't go wrong with him.  Working with Farhan is a pleasure; with his guidance we have seen an increa...
Pedro
Travel Consulting Hub
Farhan is a master at what he does. We've seen amazing growth over the past 6 months. Always readily available to help our team....
Dave Westall
Westall Real Estate
✍️ Some of my posts
In today's digital world, advertising is a critical component of any successful marketing strategy. With the ever-increasing number of online...
Today I'm talking about rank number zero in Google. Yes you read it right! By ranking 0 I actually mean the...
Even though I am no Ashley Zandey (just so you know she's leading PR for Facebook) but I do try to keep...
Well I'm not sure whether you already know about Google Trends but even if you do let me tell you...
Google rolls out the new expanded text search ads for desktop as well as mobile devices. The change has been...
LinkedIn is a very powerful networking platform to promote business but unfortunately not many people know how to. Now a days...
There are billions of images uploaded on the internet on daily basis and are available for viewing. However many of...
Marketing and Design Requirements for a Website to Gather Leads Are you getting thousands of visitors to your website and not happy...
Driving targeted traffic is one the major concerns for an e-commerce website especially when it is relatively new. The methods...