SOCIAL MEDIA MARKETING SERVICES IN PAKISTAN
Social Media Marketing is all about Triggering the Right Response
Social Media marketing or SMM is a form of internet marketing that uses various social media networks like Facebook, Twitter, LinkedIn, Instagram, YouTube and other to achieve your marketing and branding goals. Social media as the name suggests is all about being social which includes sharing content, images, videos as well paid social media marketing to drive targeted leads for your business.
Social media is not only about likes, followers or fanbase. It is one of the most prolific marketing channels for bringing qualified leads, conversions and sales for your business. Your prospects spend 90% of their time online on social media sites like Facebook, Twitter, Youtube and Linkedin. I help you form a consistent social media strategy for both B2B and B2C markets.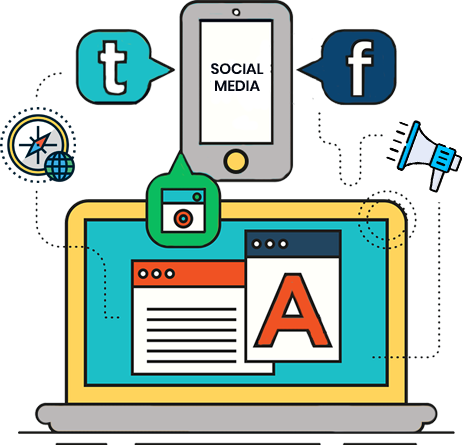 ENGAGE WITH CUSTOMERS USING SOCIAL MEDIA
Improve your Social Media Presence
Social media marketing has proven to be an extremely effective way to communicate allowing companies and businesses to reach their customers right where they are. Social advertising allows you to increase brand awareness and expand your social community.
When blended in with other forms of marketing such as SEO and Search Engine Marketing, it allows you to move customers through your desired funnel and eventually converting them into sales. I help you harness the power of social media marketing and advertising to generate new business and retain existing customers.
Competitor Analysis
Analyzing direct competitors that are outperforming you in terms of engagement and audience size.
Paid Social Campaigns
Creating a copy that sells and showing your ads to users willing to buy your product or service. Tweaking audience, split-testing and reporting.
Social Media Management
You need to be where your customers are. I help you manage your social media channels in an optimized & effective way.
Social Media Content & Messaging
Helping you build a consistent fool-proof strategy that resonates directly with your core audience on social media.

Social Media Management Services
Ready to build something great? Partner with me to help you with your brand's social media journey.
I am very happy with the service and communication I received and would highly recommend Farhan....
Dave
CEO, Westall Real Estate
Great experience & great service! Farhan is knowledgeable, fast and reliable! You can't go wrong with him!...
Pedro
CEO, Travel Consulting Hub